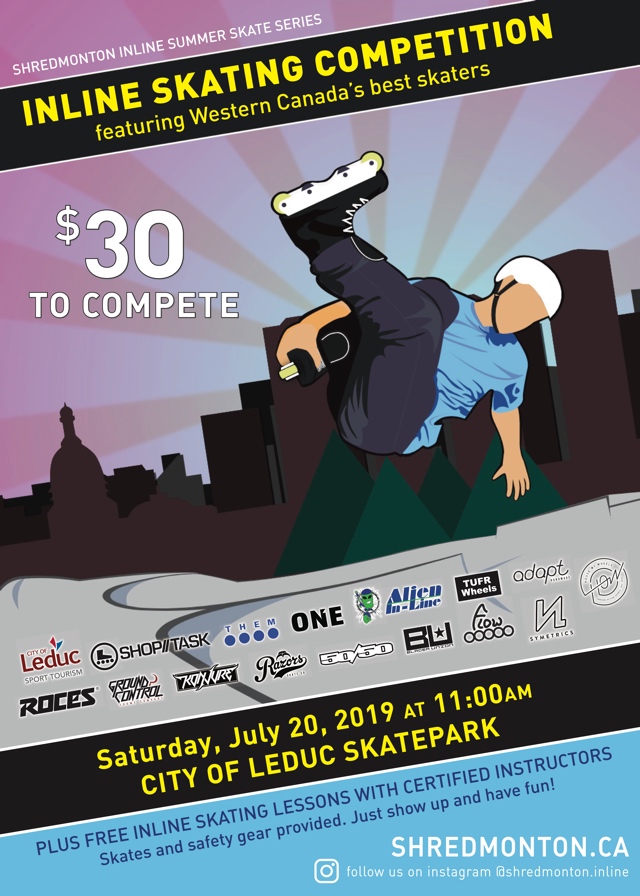 Shredmonton Inline is excited to announce the inaugural Shredmonton Inline Summer Skate Series will be taking place at the City of Leduc Skatepark on July 20, 2019. The event will feature free inline skating lessons as well as an inline skating competition featuring Western Canada's best bladers!

WHERE

The venue for our event will be the world-class City of Leduc Skatepark located at Corinthia Park at the intersection of 50th Street and Corinthia Drive in Leduc, Alberta!
WHEN
July 20, 2019 aka 7/20. On-site registration is from 10:00 am - 11:00 am and the competition gets underway at 11:00 am.
WHO
All skill levels are invited to compete for prizes provided by our sponsors!
Members of the public are also welcome to come participate in free inline skating lessons provided by Alien Inline!
FORMAT
The format for the competition will consist of 3 heats. The first heat will be open to all registered skaters. The Top 10 skaters from Heat 1 will move onto Heat 2. The Top 5 skaters from Heat 2 will move onto the Final Heat. The Top 3 skaters from the Finals will be awarded prizes generously provided by our Sponsors with a Best Trick Award also up for grabs!
Each skater will be given 2 x 45 second runs per heat and the best score of the 2 runs will be taken. Skaters will be judged on consistency, line, difficulty, amplitude, creativity, and style.

HOW TO REGISTER

Please head to our Products page and follow the links to complete your registration.
LESSONS
Free inline skating lessons will be provided by Alien Inline
We have partnered with Alien Inline to provide certified skate instructors and equipment to facilitate skate lessons for anyone interested in learning how to inline skate.

Lessons will be taught in 30 minute blocks with groups of up to 15 participants. Skate lessons will be held in an area away from ramps.
Available time slots:
12:00 pm - 12:30 pm
1:00 pm - 1:30 pm
2:00 - 2:30 pm
SAFETY
All skaters participating in the competition must sign a waiver and be equipped with, at minimum, a helmet.
For those participating in inline skating lessons, full safety gear and skates of all sizes will be provided.
Everyone participating will be asked to sign a waiver. Participants under 18 years old will need to have a parent/guardian signature.
SPONSORS
Please check out all of the Sponsors and Exhibitors who have made this event possible!
Please do not hesitate to contact us if you have any questions!